Dear Friend,
On Dec. 7, 1941, a "date which will live in infamy," Japanese forces launched a surprise attack on Pearl Harbor, sinking American battleships, disabling the western fleet, and killing more than 2400 American soldiers. The attacks on Pearl Harbor led the United States to declare war on Japan, and thereby enter into World War II.
From that day on, the United States and the world was never the same. The United States and its Canadian and European allies beat back the advances of the Axis powers led by Hitler, Hirohito, and Mussolini.
We often refer to our World War II veterans and their spouses as the United States' Greatest Generation. The appropriate nickname was earned by their blood, sweat, tears, and sacrifices. The American men and women of the 1940s built a nationwide war machine, won a multi-front war, liberated a continent of prisoners from concentration camps, stopped the advance of totalitarianism, and rebuilt a stable Europe. Today we pause to honor those who lost their lives in Pearl Harbor and thank our veterans for their heroism in World War II.
USDA Grant to Wabash Communications for Jefferson County for Broadban Expansion
I was pleased to be in attendance this morning for the announcement of a $12 million + grant/loan from the USDA for Wabash Communications. This will be used to provide 300 miles of Broadband to Wabash and Jefferson Counties. Thank you to USDA Under Secretary Bill Northey for traveling to our region to make the announcement!
Annual Christmas Tree Lightings in Carbondale and Du Quoin
I had a great time visiting with folks at the annual Carbondale Christmas Tree Lighting. The tree was merry and bright and a great crowd was on hand this year!
Monday evening I was honored to speak at a beautiful manger and tree lighting ceremony in DuQuoin. Thank you to Mayor Alongi for the invitation to join such a wonderful community on such a special night.
Rep. Bryant Reminds Local Governments to Apply for PARC Grants
Murphysboro….State Representative Terri Bryant (R-Murphysboro) is reminding local government units interested in applying for Parks and Recreation Facility Construction Grants that the filing deadline begins Tuesday, December 3, 2019 and ends Tuesday, January 21, 2020.
"Today begins the application filing period for local governments to seek PARC grant funding through the Illinois Department of Natural Resources," Bryant said. "I want to urge eligible entities to take advantage of the grant application filing period that begins today. PARC grant funding can help take the burden off of local taxpayers and assist local government units trying to manage the cost of buying land and building new parks and recreation facilities."
According to the Illinois Department of Natural Resources, units of local government that are authorized by Illinois law to expend public funds for the acquisition and development of land for public indoor/outdoor park, recreation or conservation purposes are eligible to apply for funding assistance. School districts are not eligible for PARC grant funds.

To find out more about applying for PARC grants available through the Illinois Department of Natural Resources, local government officials may visit https://www.dnr.illinois.gov/grants/Pages/PARC-Grant.aspx
####
SIU Welcomes New President!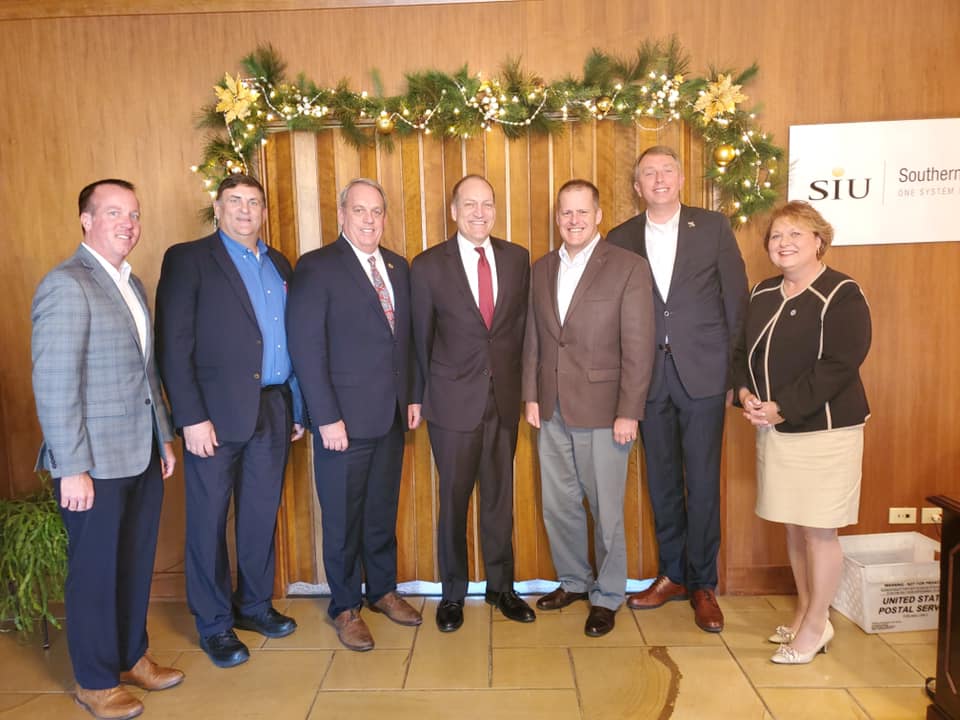 It was my honor to meet new Southern Illinois University President Daniel Mahony along with my fellow Southern Illinois legislators this week. Good luck and best wishes for a successful tenure at SIU!
Congratulations Murphysboro Red Devil Football – 2nd Place in State 4A Football!
Congratulations to my hometown Murphysboro Red Devils on finishing 2nd place in Illinois 4A High School Football. Also, Congratulations to the Nashville Hornets on finishing 2nd place in 2A football!
What a season for both teams! The communities of Murphysboro and Nashville rallied behind their respective teams and both teams and both communities should hold their heads high!
Stay Connected!
My office in Murphysboro can be reached at 618-684-1100 and my office in Mt. Vernon can be reached at 618-242-8115. You can email me at bryant@ilhousegop.org or leave feedback on my website's contact form at http://www.ilhousegop.org/contactbryant
Get the Illinois House Republicans Week in Review emailed directly to your inbox! Sign up today to get a first-hand look at the continuing legislative and fiscal challenges facing policymakers in Springfield.