THIRD READING DEADLINE WEEK FOR HOUSE BILLS

Dear Friend,

The third reading deadline for substantive House bills to pass on to the Senate was Friday of this week. House members spent several hours on the House floor debating legislation covering subjects from the mundane to the complicated and even controversial.

It is hard to believe that the Session has already reached this point. There are many major issues left to deal with, including the Governor's proposed graduated income tax, the State's budget, a slew of proposed sales tax hikes, and pending legislation pertaining to pensions, infrastructure, abortion, gun control, and legalized recreational marijuana.

The Governor is also relying on skipping a pension payment of $900 million in order to make the budget balance. The Governor has admitted that his plan is currently $3.2 billion out of balance, and is advocating for more taxes and one-time gimmicks to close the gap.

I strongly oppose the Governor's progressive income tax plan for several reasons. Chief among them is the existing problem of out-migration of Illinoisans. Last year, Illinois lost 45,000 residents. The high cost of property taxes, income taxes, and the possibility of further tax hikes is the #1 factor driving people, businesses, and jobs out of our state. I LOVE Illinois, and I am committed to fixing our long-term issues…but, I cannot support any plan that further taxes businesses and people out of our State. I am voting NO on the progressive and unfair jobs tax.

Third Reading Deadline – Passing Good Bills and Stopping Bad Bills
Passing Good Bills: 
First up, I am proud to announce that this week I was able to advance the "Seizure Smart Schools Act" through the House with unanimous support.

House approves Rep. Terri Bryant's Seizure Smart School Act.  House Bill 1475 will create a healthy and fiscally responsible way for students, their families, and their schools to deal with the ongoing challenge of students with epilepsy.  Under this Act, the families and their schools will collaborate to create a seizure action plan for a challenged student.  As part of the plan, each student will work with a delegated care aide, a school employee or paraprofessional who has agreed to receive training in epilepsy and assist a student in implementing his or her seizure action plan. 
Training must be provided by a licensed health care provider with an expertise in epilepsy or an epilepsy educator who has successfully completed the relevant curricula offered by the Centers for Disease Control and Prevention (CDC).  Epilepsy training programs, which are not designed for medical professionals and are accessible to people such as family members, can also be administered to persons who are seeking status as delegated care aides under this Act.  HB 1475 passed the House unanimously on Wednesday, April 9, and was sent to the Senate for further consideration.

PRESS RELEASE: Bryant Passes Bill to Better Utilize Impact Incarceration
Springfield…. State Rep. Terri Bryant earned unanimous support on Wednesday for legislation that she says will reduce recidivism and better utilize existing impact incarceration facilities controlled by the Illinois Department of Corrections.
"One goal of the bill is to help the State of Illinois fill existing boot camps in a better way," Bryant said. "Another goal is to eventually have an impact on recidivism by highlighting for members of the judiciary the availability of the option of sentencing non-violent offenders to an impact-style program."

Bryant says the legislation's goals are multi-fold, and include saving taxpayer dollars, reducing recidivism, and rehabilitating offenders.

"It is called the Department of Corrections, and as such, I believe one of the jobs that our criminal justice system has is hopefully to 'correct' a person's behavior and keep them from coming back to prison," Bryant said. "This legislation will save taxpayers money, and ultimately the goal is to use an alternative type of punishment that allows offenders to participate in a program that will help them get their lives turned around and return themselves to being productive members of society."
Having passed the House with zero No votes, HB 3168 moves to the Senate for consideration.

Stopping Bad Bills: 
Sometimes in Springfield, stopping legislation from advancing can be one of the most effective tools for members in the minority party to protect Illinoisans from bad public policy. There was a specific example this week that I wanted to point out to you.
I spent 20 years working as an administrator in the Illinois Department of Corrections, where I regularly interacted with bureaucrats, inmates, and corrections employees. My experience with incarcerated individuals is much different than some of the legislators that are advocating for early release for inmates.
To be clear, I am a proponent of responsible and sensible criminal justice reform. I am the Republican spokesperson on the House Judiciary Criminal Law committee. I have supported efforts to reduce recidivism and overcrowding and TRUE rehabilitation for incarcerated individuals in the custody of the Illinois Department of Corrections. However, I will never support legislation that lets dangerous, violent criminals that have been sentenced to life to be released from prison. To me, this should not even be a question.
This week, a bill that would have created a "Pilot Program" to release incarcerated individuals that meet certain conditions back into society was brought to the House for a vote.

I rose on the House floor to offer my absolute objection to this bill. You can watch video of my remarks by clicking on the video below
Welcome to Springfield!
One of the best parts about being a State Representative is greeting constituents and fellow Illinoisans at the Capitol during Session. The issues we face are HUGE, but I think we can all agree that we are ALL in this together.

I want to urge you to come to the Capitol during Session to watch the action. You might even end up in one of these great photos or videos that we share on a weekly basis! Take a look.
Boys and Girls Club "Youth of the Year" Finalists
TOWN HALL MEETING COMING UP IN MURPHYSBORO on MONDAY APRIL 22nd – Davis McCann Center @ 5:30 PM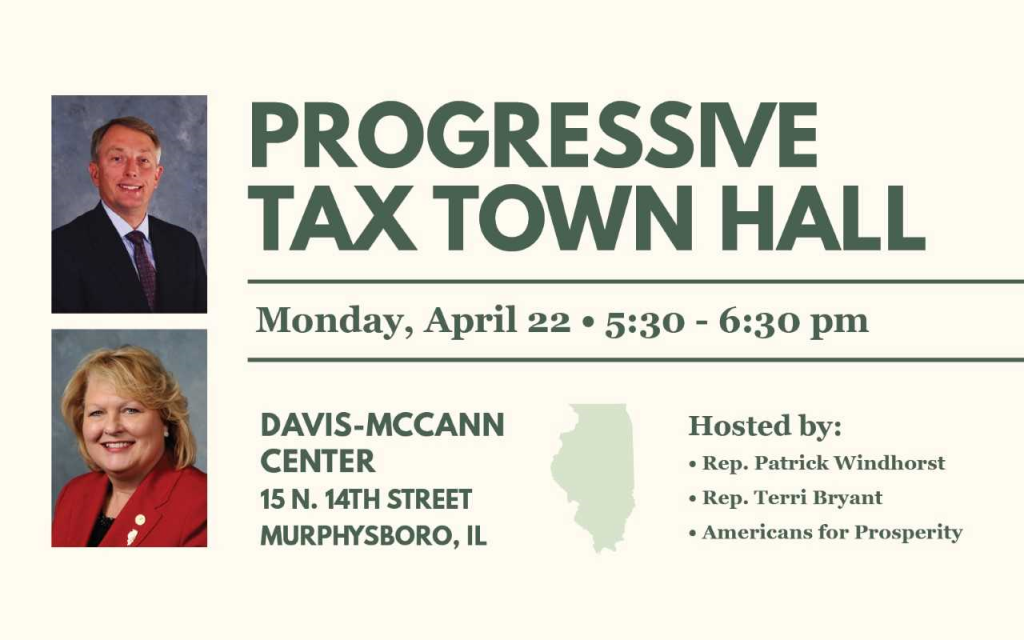 On Monday April 22, I will join Rep. Patrick Windhorst at the Davis McCann Center in Murphysboro at 5:30 p.m. for a town hall meeting to discuss the Governor's plan to implement a progressive income tax state. Details are above. Come out and have your voice heard!

Stay Connected!
There are several major issues left to be resolved in the remaining weeks ahead of the House's scheduled May 31 adjournment. 

First, both chambers must deal with the Governor's proposed constitutional Amendment to institute a progressive income tax. There is also the matter of addressing the Governor's proposals to raise taxes on plastic bags, insurance plans, online betting, e-cigarettes, and cigarettes. Legislation to legalize/not legalize cannabis for adult recreational use.

There are also rumors that a capital infrastructure plan to rebuild crumbling roads, bridges, schools, and water treatment facilities across the State could be on the horizon. Also, there is the issue of passing a balanced budget that spends more than 36.5 billion dollars.

My office in Mt. Vernon is open Tuesday through Friday and my office in Murphysboro is open Monday through Wednesday and Fridays from 8:30 AM to 4:00 PM. You can also contact me directly through the Contact Form on my website at www.repbryant.com or at bryant@ilhousegop.org